Fontána Trnová is a harmonious complex located in the area of the charming Brdy countryside. Living in this locality offers many forms of relaxation: horse riding, biking, cross-country skiing in the winter, golfing, mushroom picking, fishing, etc.
You can also take a trip with your family to the nearby Dobříš chateau or Karlštejn castle.
These can be easily accessible, everyday adventures that the Fontána Trnová locality offers its future residents, adventures that you will love forever. The absence of automobile traffic, noise, and exhaust emissions creates a unique living environment in which you will most certainly feel happy as well as healthy.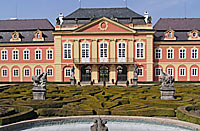 Dobříš chateau
(little Versailles)